Join us for our next Open House on January 25 at 6:00 pm!  
Email Heather Hnat, Admissions Director, at hhnat@intownschool.org to register
or request a private or small group tour.
Welcome
Thank you for your interest in Intown Community School!
We are a unique, independent, Christian school educating students in the Charlotte Mason tradition.  As Ms. Mason once said, "Education is a life. That life is sustained on ideas. Ideas are of spiritual origin, and God has made us so that we get them chiefly as we convey them to one another, whether by word of mouth, written page, Scripture word, musical symphony; but we must sustain a child's inner life with ideas as we sustain his body with food."
Welcome to Intown Community School! About 16 years ago, my husband and I sought out a Christian school for our three boys.  We wanted a village of like-minded families who shared common values and had similar priorities to ours. As children, the boys needed to be academically challenged, but more importantly, they needed to be surrounded by people who loved them for who they were and built them up to be the men God intended them to be. If you find yourself searching for the same kind of balance, I'm pleased to welcome you to the Intown community.
I've been involved in Christian education for almost two decades now as a parent, teacher, and administrator, and I am both humbled and honored to work alongside the amazing faculty and wonderful families of Intown Community School to bring our mission forward each and every day.  I've seen the impact having a solid foundation, rooted in His word, has on our children. Having a strong connection between home and school is an essential component of a successful school experience, and the Charlotte Mason philosophy relies heavily on that partnership.  
Our students and families are connected – not only to each other, but also to God's Word as a community.  There are so many outside forces competing for the attention of our children today, and almost all of them take their focus off God. If you are looking for a school experience that will challenge your child academically, nurture him socially, and fulfill him spiritually, I encourage you to read through this information and contact us to set up a time to join us on campus for a personal tour. The faculty and staff of Intown Community School would love to show you the difference a Biblically integrated school experience, centered on the word of God, can make to your family.
In His name,
Lisa Kelly, Head of School
Intown Community School
Mission
Intown Community School endeavors to assist parents in cultivating a Christ-centered life of learning for young people by nurturing a community collaboratively aiming for Christ-centered education, by engaging young people in an authentically biblical relationship with the world, and by integrating inspiration and discipline in a quest for Godly wisdom.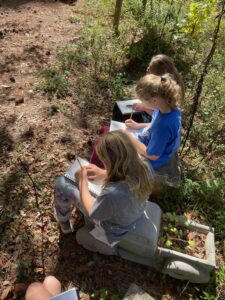 Join us for an Open House
Bring a friend or two and join us for an Open House!
Thursday, November 16th at 9:30 am
Thursday, January 25th at 6:00 pm
Friday, February 23rd at 9:30 am
Thursday, March 21st at 9:30 am
Schedule a Private or Small Group Tour
We're happy to provide a private or small group tour if our Open House dates don't fit your schedule.
Contact Heather Hnat at hhnat@intownschool.org for more information or to schedule a tour.
"…let yourselves be pulled into a way of life shaped by God's life, a life energetic and blazing with holiness." I PETER 1: 15 (the Message)